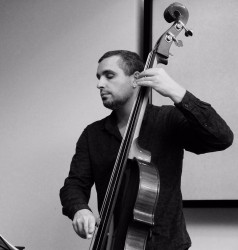 Kostyantyn Ionenko
.
Bassist/composer Konstantin Ionenko was born, grew up and got education in Kharkiv, Ukraine. After graduating from music school at the age of fifteen he started studies at Kharkiv music college at class of woodwinds instruments.
At 1998 he entered the jazz music department of the University Of Arts (Conservatory). In 2003 moved to Kyiv, where started playing with the local jazz musicians in a variety of bands. At that time he travelled a lot, playing in Europe (Austria and Germany), as well as in USA with Bill Barron Quintet.
After his return to Kiev at year 2009, Konstantin started working at Kiev Institute of Music, teaching bass and basics of improvisation. He was also actively engaged in running workshops and jazz clinics. Apart from the academic career, he remained one of the most in-demand bass players in Ukrainian music business, being a constant member of the best jazz projects, sideman to popular artists & tv- shows, engaged in lots of touring and recording sessions.
The year 2014 was very fruitful for Konstantin as a composer and band leader, since at that time two debut albums with his music were released. The first one was the "Deep Immersion" album, with all the music composed by Konstantin and recorded by the quintet leaded by Konstantin. The second one was the CD named "Flow", recorded by Konstantin's co-leaded jazz quartet Deep Tone project.
Both of these albums were highly appreciated by various jazz critics and magazines, including "All About Jazz", "New York Jazz Record", to mention a few.  At 2015 Konstantin started a new quartet project with program named "Noema".
At the time being Konstantin Ionenko is one of the most inspired and creative young artists on Ukrainian jazz scene. He is a virtuoso musician as well as deep thinking composer, who is deeply appreciated by the audience, jazz critics and fellow jazz musicians.
official site:
http://konstantinionenko.com/