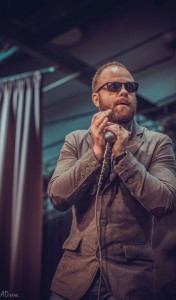 Konstantin's distinctive and modern style of harmonica won him the recognition of other musicians and a spot among top Ukrainian harmonica players. At different times he got acclaim from world famous musicians including Guy Davis, Adam Gussow, Jason Ricci, Pierre Lacocque, PT Gazell, Jelly Roll Johnson, Dennis Moriarty, Bartosz Leczycki, and Keith Dunn to name a few.
A native of Dnipropetrovsk, Ukraine, Kostantin's career has spanned 12 years. He began playing harmonica at age 19. In 2008 he joined the Bullet Blues Band - a local Chicago blues band and acoustic duo with guitarist Oleg Lavrik. The band opened for such greats as Guy Davis, Keith Dunn, Robert Lighthouse, Daniel Jeanrenaud, Mikhail Mishouris blues band, Max Tavricheskiy, and so on. He took part in the first international harmonica festival in Kiev, Ukraine in 2011.
In 2014 he released his first album "If You Want to See This Blues". This album was a mix of blues and jazz and got a lot of positive feedback from the fans and other musicians.
The next album "Sweeten It Up" was released in 2015. This all-instrumental EP shows Konstantin Kolesnichenko's tasty harmonica and features a jazzy quartet. Konstantin offered his own interpretation of the five world-famous songs which got an interesting touch of harmonica sound.
In 2016 he released his third album "Hypnotized!".  A hot jazzy-blues album which is played in organ combo format with swinging guitar, wailing organ, jazzy drums, and honking harmonica.
Konstantin is well known in Ukrainian, Russian, and Belorussian harmonica communities. And he's got his audience in the US and Europe as well.
information, photo from the official site: http://kolesnichenko-harmonica.com/