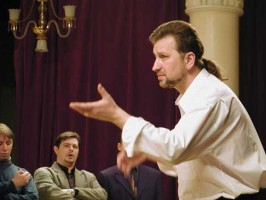 The "Kyiv" Municipal Chamber Choir was founded in December of 1990. Choir members include professional singers, graduates of conservatories and musical institutes throughout Ukraine.
Musical Director, Mykola Hobdych, graduated from Kyiv Chaikovsky Conservatory.
The Choir's national and international repertoire includes medieval, renaissance, baroque, classical, romantic and modern music.
The Choir's major awards include:
Golden Diploma at the First Robert Schummann Competition in Zwikkau (Germany, 1992)
First Award at the Twelfth International Church Music Festival in Hajnówka (Poland, 1993)
Grand Prix at the Sixth International Choral Festival in Sligo (Ireland, 1993)
Second Award at Langolen International Musical Eisteddfod (Wales, 1994)
Grand Prix at the XX International Church Music Festival in Hajnówka (Poland, 1996, 2001)
"Kyiv" Chamber Choir has performed in the USA, Ireland, Scotland, Wales, England, France, the Netherlands, Sweden, Switzerland, Belgium, Austria, Italy, Germany, Denmark, Poland, Belarus, Russia and Ukraine.
The choir performed in Carnegie Hall (New York), the Washington National Cathedral, the Concert Hall of George Mason University; BBC St. John's Smith Square Concert Hall (London); Espace Pierre Cardin, Eglise Saint Roch (Paris); Notre Dame de Paris and Cathedrals in Rouen, Reims, Amien, Strasbourg, Charte, Nancy, Le Havre, Lille, Dieppe, Metz, Paris; in the Philharmonic Halls of Utrecht, Rotterdam, Amsterdam (Concertgebouw), Berlin, Minsk, Kyiv; Berlin Dom; Long Gallery (Kilkenny); Tivoli Concert Hal, Marmorkirke and Domkirke (København); opera theatres in Minsk and Kyiv; and the "Russia" Concert Hall (Moscow).
Reviews of "Kyiv" Chamber Choir performances have appeared in "The New York Times", "The Washington Post", "The Glasgow News", "Normlandie", "Nouvelles d'Alsacie", "Der Tages Spiegel Berlin", "Münchner Merkur", "Kristeligt Dagblad" (Denmark), "Holos Ukrainy"…
Concerts have been recorded and broadcasted at ÂÂÑ Radio-3 in Great Britain, "World BBC", Bavarian, Bremen, Köhln, Berlin, Norman, Polish, Danish radio from Tivoli Concert Hall to Sweden, Finland, Denmark; Ukrainian National Radio.
The choir has recorded 16 CDs of national and international music.
information from official site:
http://www.cck.kiev.ua/
photo from:
http://blog.meta.ua/~lucinissima/posts/@31947/newcomment/ua/