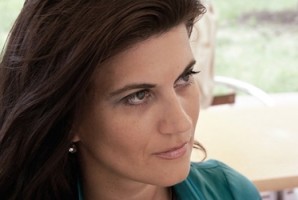 An award-winning prolific author,
Larysa Denysenko
is a multitalented professional and human rights activist.
Larysa Denysenko learned the Ukrainian language when she began working for the Ukrainian Ministry of Justice at the age of 23. Her academic achievements include graduating from the Law Department of Kyiv National University, Central European University in Prague and legislative drafting courses at the Dutch Ministry of Justice.
A licensed attorney, she worked in legal offices of various levels of importance, including an international anti-corruption organization Transparency International.
Larisa entered the world of literature with her first publication
"Zabavky z ploti ta krovi" (Amusing Flesh and Blood)
that won her a grand prix in the Ukrainian national competition Coronation of the Word in 2002. Since then seven of her titles including three children's books have been released and received national awards and high praise in press.
information from:
http://www.glagoslavspeakers.com/contributors/larysa-denysenko/
photo from:
http://litakcent.com/