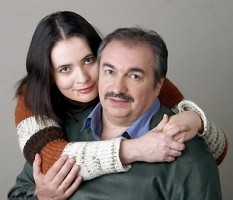 Maryna and Serhiy Dyachenko
(Kyiv, Ukraine) are spouses and Ukrainian co-authors of novels and plays. They write in Russian and Ukrainian languages. The primary genres of their books are modern science fiction, fantasy, and fairy tales. They currently reside in Moscow.
Maryna and Serhiy claim that the bulk of their work is "M"-realism (a possible guess is that "M" stands for magic, but it was never confirmed by either author).
Maryna and Serhiy Dyachenko are recipients of the most prestigious literary awards in the science fiction in the Commonwealth of Independent States. Practically every novel they have written, in addition to several short stories, have received various awards.
They were honored as the ESFS's Best Writers of Europe in Eurocon 2005.
From Wikipedia, the free encyclopedia.
photo from: http://www.consumer-club.com.ua/articles/multimedia/936/4