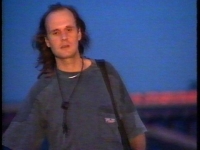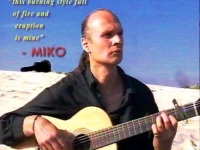 His style is unexpectedly enthusiastic, restless and yet lucid and light...
"I feel it that way", says virtuoso flamenco guitar player Mikhailo Kovalchuk (MiKO), prizewinner of numerous festivals. You will also feel it in the same way in each of his compositions where through the constant flow of moods prevails an impetuous tender passion aspiring to SILENTIUM – silent distance... Flamenco technique is one of the most difficult to master for the performer. Very few have the ability to compose and improvise.
"I became a professional guitarist while attending a vocational sports school. My father wanted me to become a professional sportsman, but I ran away from the sports field. I played my guitar until my fingers bled. I went to bed with one thought only to awaken and play again as soon as possible.
During lectures at the Kyiv Theatrical Institute all I thought of were different musical phrases. As a result, I left the Institute after my first year and dedicated all my time only to the guitar and to my own self-education. Why flamenco? This burning stile full of fire and eruption is mine. It can also be melancholic, yet wildly lyrical. Now I have departed from traditional flamenco and play classical music only occasionally. How long can you play someone else's music, even if it is excellent? What I do now is mine a fusion of psychological flamenco entwined in thoughts, jazz and silence – though within the silence there is still such boldness...
You may ask how a new composition is created, where does the inspiration come from, what is it like? It may arise from anything the weather, dreams, and the touch of something unknown... Inspired, I will jump out of my bed and take up my guitar. Sometimes I can be upset with myself. Some musicians after hearing a great player perform can lose all interest thinking "I'll never play like that". On the contrary, I attempt to outperform...
The process of improvisation? You think with the guitar. You don't know what will happen within five seconds. You dive into another measure according to the condition of your soul. If people are listening to me, I forget everything and feel totally free. If I do not, then I simply work on technique without emotional content. An audience is required to exchange energy. Having worked for two ears in Prague, a fabulous even fantastic city I managed to create many compositions with a mystical complex". (From an interview of Mikhailo Kovalchuk in the "Vysoky Zamok" newspaper 23.01.1999). now after his passing you can experience the essence of MiKO's spirit in his string. In listening to this album, try to understand the depth of the Universal Creator through his music.
(information from the booklet to the CD)
photo from: http://h.ua/story/778/#photo