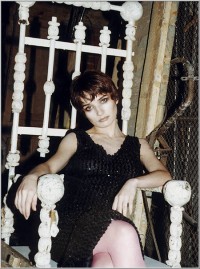 Singer
Nataliya Myrna
was born in Lviv. She start to perform with her own name
Natalka Pylyp'yuk
, later with stage name
Nikita
. Now Natalia's perfoming with project "Belle Diva" and preparing a new project "Svit_Natalie".
Education: M. Lysenko Lviv State Music Academy, conductor faculty; St. Ludkevich Lviv State Music college, conductor faculty.
Awards:
- Grand-prix of "
Klavdia Shulzhenko
International festival  of pop song", Kharkiv,
- 1 premium  as pop singer of Ukrainian music festival "Pervotsvit", Chernivtsi,
- 2 premium of International music festival "Romansy Slavutycha",Slavutych,
- Laureate of International music festival "Pisennyj vernisazh-95", Kyiv,
- 3 premium of Ukrainian television festival "Melodiya-95", Lviv,
- Diplomant of Volodymyr Ivasuk International music festival, Chernivtsi,
- 2002 - recording of album "Khameleon".
information from official site:
http://www.myrna.in.ua/
photo from:
http://www.ukrcenter.com/