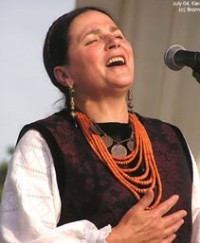 National artist of Ukraine Nina Matviyenko is an unsurpassed performer of Ukrainian folk songs. She possesses a unique, owing to its timbre and expressiveness, magnificent voice. The singer's repertoire comprises a great variety of folk songs: ritual, lyric, funny, ballads and also Ukrainian songs of XVII-XVIII cultural and historical period. Nina Matviyenko is constantly co-working with outstanding Ukrainian modern composers: Yevhen Stankovych, Oleg Kiva, Myroslav Skoryk, Iryna Kyrylina, Ganna Gavrylets'.

Nina Matviyenko's talent was also revealed in theatre and cinema. She took part in television performances ("Marusya Churay", "Kateryna Bilokur", "Water overflowed across four fords"), feature films ("Straw bells", "Missed deed", "Wedding is accused"), radio performances ("Arrow's flight", "Clarinets of tenderness"). She added sound-tracks to a number of popular scientific, newsreel and documentary films, several television and radio programs. In 1988 her first video was shot – "Mermaid's week".

Nina Matviyenko has personal works as a director at the theatre. Her artistic gift embodied in course of a music performance creation – "Under the Sun" (1997) with participation of a Japanese dancer Tadashi Ando, and a grandiose music and stage event "We sow a gold stone" (1998). Besides, the artist played in 16 performances with an American theatre "La Mama E.T.C." (New York, USA) in 1995.

Since 1966 till 1991 Nina Matviyenko was a soloist of a voice studio at State Honored Ukrainian Folk Academician Choir named after G.Veryovka. Besides, since 1968 she simultaneously started singing in vocal trio "Zoloti Klyuchi" (Golden keys) with Valentyna Korotya-Kovalska and Maria Mykolaychuk. Nina Matviyenko's career as an artist is marked by the following achievements: in 1978 she was conferred with the title of Honored Artist for her great contribution into development of Ukrainian art and for an intensive cultural activity; in 1985 – she was awarded with the title of National Artist of Ukraine. A new period in the singer's career is connected with co-work with National ensemble of soloists "Kyevan Camerata", which soloist she became in 1991. Incredibly expressive character of the artist folk singing is combined perfectly with an academician style of "Camerata" performing, which helps to vary the concert repertoire of this music group.

Nina Matviyenko is a laureate of a contest "Young voices", Ukraine, (1978), International radio contest of folk songs in Bratislava (1978), All-Union television contest "With a song along the life" (1979), the XI International festival of youth and students (Moscow, 1985), a laureate of the State T. Shevchenko Prize of Ukraine (1988), since 1989 she's a member of Film-Makers Union of Ukraine. In 1996 the singer was awarded with the highest award of the International M. A. Kasyan Prize Fund – Order of Mykola Chudotvorets'. Besides, in 1997 Nina Matviyenko became a Holder of a State Award – an Order of Princess Olga, the 3d degree.

Since 1967 the singer has been actively touring with concerts. She made successful tours in Mexico, Canada, USA, Czech republic, Poland, Finland, Korea, France, countries of Latin America. Her career as a singer resulted in numerous records of Ukrainian folk songs, audio-records ("Lullaby of Dawn", "Prayer"), CDs with songs of various genres. Among the most well-known singer's CDs are:

"And heart will find rest", "Zolotoslov" ("Goldenspeaker") (1997), several CDs "The songs of Ukrainian people" (1998-1999) with vocal trio "Golden keys", "Sleep, Jesus" (2000) with the participation of men's choir named after L. Revutsky, "Oh, voluptuous Venus" with an Ensemble of ancient music under leadership of K. Chechenya.
photo from: http://www.vox.com.ua/data/osnovy/2006/11/23/niina-matviyenko-vidimkny-synye-nebo.html