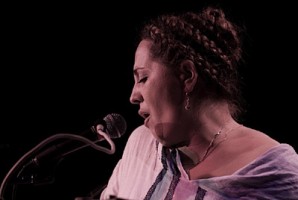 Those, who know better, say that Georgian vocalist
Nino Katamadze
should "not to be understood, but rather to be inhaled, in large doze, as an antidote from loneliness, panacea for stress, tincture against aggression and injection to cure from skepticism"
Nino Katamadze &
Insight
means original compositions, synthesis of Georgian and world modern musical school, surprising with findings and high quality execution of music arrangements, strong, emotional and deep vocal. You may define it as jazz, and rock, and the pop, and psychedelia. It is a music, while listening to which you are not concern about what it is, and to what branch it belongs. This surprising project draws full audiences. Nino's voice, manner and wave of feelings which covers audience during a concert are stuck to memory at once and for life; her improvisation is illusive and very much in her own way. Her singing manner is unique. Her music throws back to folk songs, and is based on perception, that any good song is in itself a folk song. To enjoy the Insight music one shouldn't know the Georgian language; lyrics are beyond words and lines, and many improvisations are solely a divine voice, free from words. Nino sings not words, but her feelings. Even the most serious music critics do not hesitate to express their boundless delight of Nino's and the Insight band's skill and art. Nino is an author of original music of almost all her songs. She indeed lives to create new musical themes and shares this pleasure with musicians of the Insight band. The Insight band members: Gocha Kacheishvili (guitar), Ucha Gugunava (bass-guitar) and David Abuladze (percussion). Every performance by Nino & Insight is incredibly powerful stream of energy which withdraws audience in a specific psychological state. "I have found myself in music because I can sing, play, perform concerts and share a small part of me with people." – These simple words of Nino Katamadze conclude a secret of her phenomenal success.
Information
Nino Katamadze (Georgia) was born on August 21, 1972 in Adzhariya, in the city of Kobuleti. She is on stage since she was four. In 1990 Nino entered Vocal faculty of the Batumi Musical institute and came on an amateur stage. In 1994 she founded charity fund to help invalids and actors at risk. Nino's career began in 2000 from cooperation with Gocha Kacheishvili, a founder of Insight band.
information from:
http://www.myspace.com/ninokatamadzeinsight
photo from official site:
http://www.nino-katamadze.com/