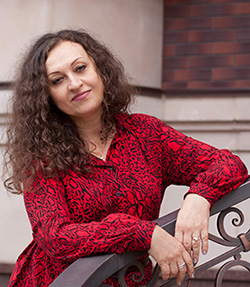 Olga Voichenko
jazz vocalist, honored artist  of  Ukraine, assistant professor of jazz and pop singing.
Olga finishes Snezhnoe music school, the class of piano, Rostov College of Arts and Donetsk Academy class of jazz vocal.
In the 1990s, Olga tours with her mentor, the legendary Ukrainian trumpeter - virtuoso Valery Kolesnikov. Alongside  with this, Olga Voichenko (vocal) and
Sergei Kapeliushok
(guitar) created a famous jazz duo. The duo participated in many jazz festivals and projects: Ukraine, Germany, England, France, Finland, Japan, Austria, Poland, Russia, Serbia and others. In 1999, the duo released their debut album "Tenderly" at the studio "Dynasty", Kyiv.
In 2001, in Tokyo, Olga became the owner of the Grand Prix at the jazz competition "Asakusa Jazz Contest" in the nomination vocal. In 2002 Olga received an invitation to perform at the festival "Ueno Jazz Inn" with a Japanese sextet.
In 2004, during  the festival "French Spring" Olga participated in the author's project of the famous French saxophonist Sylvain Beuf and vocal group "Octovoice" (France).
In 2006, the record company Comp Music / EMI in Ukraine released the album "Magic Dreams", which included original compositions by Olga and Sergei.
The album was recorded with the leading musicians of Ukraine, Russia and France. The album was attended by the  invited guests - Arkady Shilkloper (horn, Russia) and Jean Charles Richard (soprano saxophone, France).
In 2007, Olga with the quartet performed at prestigious European international festival "Jazz Jamboree" (Warsaw, Poland).
In 2013,  the company Comp Music / EMI published new album "Spivanochky Moi" which Olga recorded together with famous Ukrainian musicians - pianist
Pavel Shepeta
and guitarist Sergei Kapeliushok.
In 2013, Olga received the honorary title of Honored Artist of Ukraine.
Since 2000, Olga has been working in Kyiv National University of Culture and Arts, combining concert activity with teaching.
In 2015, Olga was awarded the academic title of associate professor.
Olga has had vocal master-classes in Japan, Serbia, Ukraine and other countries.
www.facebook.com/olga.voichenko.jazz