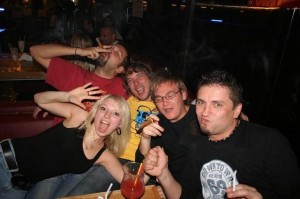 Nowadays, at the time of total and thorough development of culture there are few creators staying aside. The brightest element of history development is a music scene, since this is where the performers have an unlimited possibility to combine their professional virtuoso features with the start at the theatre. One of such diamonds is the
Platina
.
The PLATINA band was officially created in 2003. Though this is not an occasional or spontaneous phenomenon at contemporary stage. Long lasting hours of collaboration and inspiring, searching and experimenting favoured the appearing of such creative collective.
The idea of founding the band belongs to the guitarist Yuriy Kondratyuk. The band consists of experienced musicians who worked with famous Ukrainian performers (
V. Pavlik
,
N. Mogilevska
,
Î. Ponomaryov
,
Ruslana
).
As it turned out later, every musician dreamed about being a member of his or her own band and has been striving to his or her goal ror quite a long time. Owing to this fact there are friendly relationships inside the band, because each of them possess his or her own place. So what is PLATINA today? This is a constellation of five elements, five personalities.
Viktoriya Vasalati – leader of the band, the soloist, acoustic guitar, poet, composer, the laureate of international inter-Ukrainian contests and festivals. A solo performer in the past.
Yuriy Kondratyuk – guitar, a virtuoso master in playing this instrument providing drive and solid sound of the band, composer, sound arranger, and accumulator of the band mood.
Sergiy Rozhkov – keyboard instruments, has an inborn talent of embodying endless fantasies through playing the instrument, composer, an idea generator.
Nikolay Kistyenyov – bass-guitar, back vocal, virtuoso master of playing not only the bass guitar, but bayan as well; graduated at the Kyiv State Conservatory. A kind of still water of intellect with a concealed flame of rhythmic tension.
Oleksander Kapitonov – drums , rhythm, balance, an irreplaceable .heart of the band.
The band finished work over the first own Ukrainian-language album consisting of fourteen tracks. The band has great creative plans for future, upon which the team works today.
The members of the band desire to achieve serious results in common deal. Music, professional skills, and friendly relationships are the things that made them unite into single creative family.
official site:
http://www.platinaband.com/
information and photo from official site of fan-club: www.platina-musicband.com