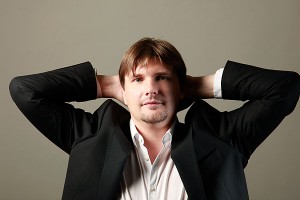 Rodion Ivanov
– Ukranian pianist, keyboard player, composer. His working interests include jazz, pop-music and fusion. He graduated from the Donetsk State Conservatory in 1998, jazz piano department. The same year he moves to Kiev, where starts active concert work as a member of UNITY band, but at the same time performing with other groups and musicians.
From 1998 to 2009 Rodion cooperates as a musician with such performers as
Gaitana
,
Green Grey
,
Assia Akhat
,
Maria Burmaka
,
Via Gra
,
Igor Zakus
, Toni Gerrero, JD Walter, Frank Lacy, Ark Ovrutski, etc. Songs written by Rodion Ivanov are sung at various times by Gaitana,
Ani Lorak
,
Viktor Pavlik
, Nastya Markova. In 2002 in cooperation with
Valery Volkov
and
Maxim Gladetsky
, Rodion records the fortepiano trio album "More than words", which received great reviews in Ukraine as well as abroad. The trio performed successfully at Ukrainian jazz festivals, in France and Lithuania.
At the moment Rodion is preparing the release of his solo album "Electric Variete", representing various styles of music, interesting for Rodion, from funk and lounge to new jazz and fusion. The best Ukrainian jazz musicians such as Igor Zakus, Dennis Adu as well as great vocalists Nastya Markova and Aniko Dolidze are participating in this project.
photo from MySpase:
http://www.myspace.com/rodionivanov