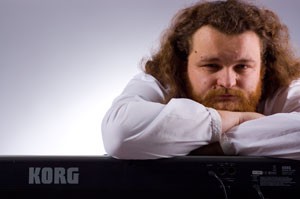 Roman Kolyada
– piano-player, composer, journalist, poet.
Date of birth: April, 6th, 1976.
Education: the Kiev conservatory (musicologist) of 1992-1997
In 2008 first CD "Look into the sky" was published.
On April, 26th 2009 is presented public the second album "Love and separation dance".
One more party of his creative nature – journalism. In media since 1995 (from the sound producer to vice editor-in-chief of network news-talk radio station, leader and script writer television and radio programs).
The first poetic tests: the middle 90-hh. In 2000 KMC "Poetry" has published the first book of verses "Sacred mills". In 2006 publishing house "Continent-prim" has released the book "Walking down the city".
information, photo from official site:
http://www.kolyada.org.ua/