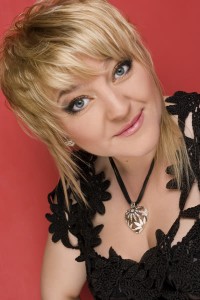 Ruslana Kalyna
was born in Lviv, then she studied at schools ¹70, 80, the musical – pedagogical college named after F. Kolessa, afterwards in State Pedagogical Institute named after I. Franko in Drohobych.
In 1993 she becomes a prize-winner of all-Ukrainian Contest of solo-singers of Klym Chichka-Andriyenko. It was for the first time in the history of the institute that a vocal singer has become a prize-winner (vocal teacher prof. Bohdan Bazylykut).
Another decisive step was made by her when full of great ambition of improvement she entered Lviv Musical Institute named after M. Lysenko, vocal faculty. Her teacher was Prof. Tamara Didyk, people's Singer of Ukraine. This school of singing was based on the traditions of Solomiya Krushelnytska who passed her methodology of singing to her niece Odarka Bandrivska, then it followed to T. Didyk who became a tuitor of Ruslana Kalyna. Besides studying Ruslana studying participated in various musical concerts.
In 1999 she becomes a prize-winner in International contest "Golden Trembita" in Truskavets.
Since 2000 Ruslana became an assistant and a member of jury of the contest.
The next year she had a debut in Lviv Opera (the role of Carolina in the opera "Secret Wedding" after Chimarozo).
In 2000 Ruslana gets a diploma of a specialist in "Academic singing. Chamber and opera singer. Teacher of vocal-singing" in Lviv State Musical institute named after M. Lusenko. Since that time a new page in the life of the singer has opened. It is bound with TV, festivals, search of new unique style. She has to struggle through many difficulties, but she works persistently and hard and creats her own unique manner of performance.
Ruslana never stops at the achieved but gets new prizes at all-Ukrainian and international contests. She is often invited abroad as a member of a jury and an honourable guest of Ukraine.
A creative moment to have followers and pass her experience to them came when she gained success in her work and study. Thus Ruslana organized a studio of variety and academic vocal singing. It is a unique school of natural singing based on European traditional performance, individual approach to the pupils, choice of repertoire, development of her pupils abilities brings fruitful results.
2006 was a special year for Ruslana – her hit "For You..." appeared. "For You..."  is a unique combination of opera singing and variety show.
Everything goes along the invisible life spiral and everyone follows the way length of life to reveal oneself to others…
Ruslana opens us the world full of joy and warmth!
information, photo from official site:
http://www.ruslanakalyna.com.ua/