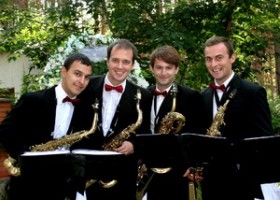 Sax Kings
is four energetic and talented young men, representing Kyiv saxophone performance school. They teamed up in 2009 at request of the participants themselves to enlarge their musical and creative potential in such a unique genre as the saxophone quartet. Possessing a wealth of experience in the solo, orchestra, ensemble and sound recording practice, the collective strives after bringing to the listener all the completeness and diversity of sounding of the compositions they play.
Nowadays the Quartet's members are performing with various national bands in Ukraine (National philharmonics, Presidential orchestra, orchestras of national radio), and also in a
Kyiv saxophone quartet
of the National philharmonics. Their mastery of performing has been noted by prominent specialists and critics at various contests and festivals of music. They have rich experience of performances both in solo and in private (corporate events, private parties, celebrations).
Quartet's repertoire collects the music of different genres, i.e.: classical, jazz, pop.
information, photo from the official site:
http://saxkings.com/