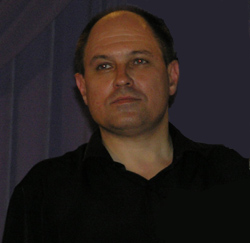 Sergey Davydov
. A pianist, composer, arranger, associate professor of the Kharkiv State University of Arts. He first studied at a ten-year special musical school in Kharkiv, then – at Kharkiv Institute of Arts (now – Kharkiv State University of Arts). In 1990 he did a training course at the Jazz Department of Cincinnati University (USA).
Since 1989 Sergey Davydov has been an active participant of many prestigious jazz festivals in Ukraine and abroad. From 1990 to 1997 he was the leader of the prominent jazz band "Consensus". This team of musicians made recordings in Sound Recoding Studio in Moscow and Kiev. In 1997 together with the clarinet musician S. Nizkodubov he initiated and played an active part in a session of philharmonic jazz concerts in Kharkov.
In 1989 two albums were recorded: one in duet with the same clarinet musician and the other – with the arrangements of jazz standards in duet with the double bass player Denys Dudko. Since 1998 these concerts with unique solo projects have taken place during the annual international festival "Sergey Rakhmaninov and Ukrainian culture". These solo projects give a free voice to the creative genius of Rakhmaninov's works and improvisation of jazz.
information from the official site: http://www.davydovjazz.com/

photo from:
http://uajazz.com/people/davydov/