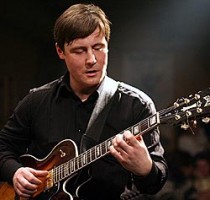 Sergey Ovsyanikov
was born 27 May 1967 in Kramatorsk Donetsk area. Initial music formation has got in VMSH 1 him. Stecenko, first teacher - Alexander Genrihovich Kolontyrskiy. Since 1991 Sergey begins seriously to concern with creative activity. The First music group - a group "Fanksept", in which also played
Nataliya Lebedeva
and Sergey Tabunschik. A little later, this project became to be identified "Second A". The Ensemble participated in several festivals "Autumn jazz marathon", which were organized in October palace (the Kiev) by trumpeter A. Korsak. In 1994 Ovsyanikov organizes its quintet and in companies Vadim Medved,
Vitali Ivanov
, piano player Natalia Lebedeva and drummer Sergey Tabunschik writes the first author's album "Oliveyra", which was published in Austria in 1996. And in 1998 has seen the light second disk -" Nagual Wind ". During this record Sergey got acquainted with bass-guitar player
Igor Zakus
and pianist Yuri Shepeta. Since 1998 Sergey Ovsyanikov - a participant fusion-groups "Fest" and quintet of Yuriy Shepeta; the last for 1998-2003 has realized the ensemble the most interesting jazz project. The Programs by Shepeta "Frends circle" and "Tribute to Bill Evans" left the separate disk and were submitted for several prestigious festivals in Ukraine and for her(its) limit. With program "I Love Brazil" quintet has played seven concertoes in cities of the Russia, as well as has emerged on polish jazz festival in city Peremyshl. Since 1998 on 2006 Ovsyanikov participates pre-recorded album of Igor Zakus, Vladimir Volkov, Galina Tolchanova, groups
ManSound
, as well as works as session studio guitar player in prist-project: amongst "client" Ovsyanikov -
Taisiya Povaliy
,
Katya Buzhinskaya
, Dima Klimashenko,
Sofiya Rotaru
. At June 2005 Sergey Ovsyanikov in composition trio with Sergey Tabunschik and Konstantin Ionenko writes its third solo album "Bride" (Live in Studio). In 2007 Sergey has organized the first ensemble in Ukraine acting jazz manouche -
Lush Life
.
information from:
http://www.myspace.com/ovsyanikovsergey
photo from:
http://uajazz.com/index.php/performers/106-ovsiannikov