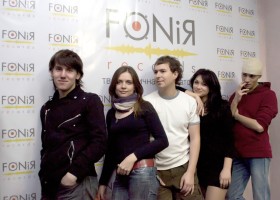 ShockolaD
- ukrainian jazz-band. Musicians combines jazz music and ukrainian folk in their work. In addition to ethno-jazz, they are experimenting with electronic sound and lyrics of Ukrainian and Polish poets. The band permanently takes part in international festivals: "Jazzbez" (2004-2009), "Lviv Flugers" (2005-2010), Metro Jazz (2005), "Jednist" (2007), "Starzy i Mlodzi, chilli jazz in Krakow(2007), "Art-machine" 2009","Jazz Fest" (Sumy 2008), "The 19th Ukrainian Culture Festival" (Sopot 2008), FortMissia (2009-2010), Amiens Jazz Festival (2009)
For six months (February - July 2008) some members of the band: Dana Vynnytska (vokal), Igor Gnydyn (drums), Anastasia Lytvyniuk (piano) have stayed in Warsaw. It was a scholarship program of Minister of the Polish Culture "Gaude Polonia". The participation in the scholarship program let us not only study with the legendary musicians of Polish Jazz: Andrzei Jagodzinski (piano), Czeslav Bartkovski (drums), Janusz Szrom (jazz vokal), but also gave us profound basis for creative exchange. The first step was a cooperation with famous Polish musicians Michal Jaros (double-bass), Tomas Dabrowski (trumpet).
United creative search led to the music that combined in itself Ukrainian folk roots, experience of the Polish Jazz and the New World music ideas. Exchange of emotions, thoughts, energies gave birth to the new music, where everyone found something of his own. As a result, there has appeared a record and addition to the disc Shokolad+PL
"number one"
and a series of concerts in Poland and Ukraine.
The most important event 2009r. is the new album
"Pokosy"
. The basis of most songs is ukrainian folk songs, which after transformation of consciousness through the group acquired the jazz sound. .
information from:
http://www.myspace.com/shockolad
photo from the official site:
http://www.shockolad.com/