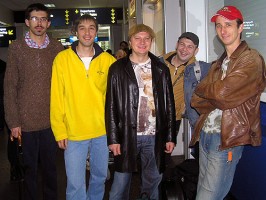 -
Dmitry Alexandrov
has been remaining the best tenor-sax player in Ukraine. For years, for sure. Either in the eyes of numerous critics, musicians or listeners.
He's a founder and leader of a
Skhid-Side
band which has already become fabulous in our national jazz history.
There's more than a dozen world-class jazz musicians, including Randy Brecker and
Mark Soskin
, who highly appraised the level of Dmitry's performing.
Besides the fact that Alexandrov has mastered his instrument in a gracious and consummate way he has proved to be a talented teacher.
Notamag.Com
- He belongs to a type of people who, on achieving a considerable degree of artistry, doesn't quit everyday routine self-cultivation, 6-7-hour work.
Dmitry plays everything - salsa, swing, post-bop.
He's really competent and wise at playing traditional jazz and mainstream, so stylistically adequate that those of world jazz stars who played jams with Dmitry would always look back in surprise when he would begin his exquisite, passionate, sophisticated solos.
UAjazz.Com
- 50 minutes of pure, classical jazz – that is the only way to describe the new album "SkhidSideMen" by the jazz band SkhidSide [Dmitry plays with]. This band is one of the most outstanding jazz bands in Ukraine with a well thought out and individual sound. Jazz aficionados and critics consider it to be the standard of quality in Ukrainian show business.
The album demonstrates a great level of skills of the members of the band – Volodymyr Shabaltas (guitar), Illya Yeresko (piano), Oleksandr Lebedenko (drums), Valentyn Korniyenko (double-bass) and Dmytro Aleksandrov, tenor saxophonist and author of all of the compositions on the album.
SkhidSide was formed 10 years ago in Kharkiv. In those years the musicians mastered a whole variety of jazz trends – everything from jazz classics, jazz variations on an avant-garde theme hip-hop, Latino music and rock. SkhidSide is a personification of the most unpredictable artistic workshop. Everything starting with quartet version of Carl Orff's oratorio Carmina Burana and finishing with radical avant-garde may be heard in the performances of piano player Illya Yeresko and double-bass guitarist Valentyn Korniyenko. Aleksandrov, who is devoted to classic jazz told KW that he recently played two shows with the famous New York pianist Mark Soskin, after which he played salsa within the framework of the project Kiev Salsa Kings.
By the way, in 2005 the band performed with a famous American jazz musician Randy Brecker – who is one of the most famous trumpeters in the U.S.
SkhidSide presented a perfect hard acid-funk program at this year's popular jazz festival Jazz Koktebel in Crimea. It is worth mentioning that music critics call this program much more impressive than the high-quality, yet predictable performance of DePhazz, who were special guests at the festival.
Weekly.Com.Ua
information, photos from official site of Dmitry "Bobeen" Alexandrov:
http://bobeen.com/