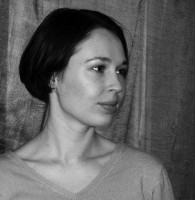 Sofia Andrukhovych
is a Ukrainian writer and translator.
She is a daughter of Yuri Andrukhovych. She is married to a Ukrainian writer Andriy Bondar, and they have a daughter Varvara, born 10 March 2008.
She is a co-editor of Chetver periodical. In 2004 she received a residence grant from Villa Decius Association in Krakow where she used to live.
She lives in Kyiv now.
From Wikipedia, the free encyclopedia
photo from: http://www.vogue.ua/culture/sofiya-andrukhovich