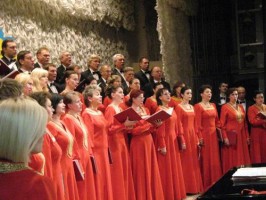 State Ukrainian Wandering Choir DUMKA
was founded in 1920 in Kyiv. Backgrounds of professional skill of choral performance was established, examples of a cappella singing in Ukraine were created. It is one of the best interpreters of folk songs, repertoire includes works by Ukrainian and World classic music.
Choir has glorious history, in different years it was headed by outstanding Ukrainian choral conductors N. Gorodovenko, M. Verykivsky, O. Soroka, P. Muravsky, M. Krechko and others. Since 1984 "Dumka" is headed by Prof. Yevhen Savchuk
-
skilled professional and gifted person, People's Artist of Ukraine, Laureate of the National T. Shevchenko Prize, corresponding member of the Art Academy of Ukraine, Head of Choral M. Leontovych Community of Ukraine. Under his leadership "Dumka" has became a competitor to the professional chorus at World level.
Repertoire includes all world masterpieces for chorus with orchestra - requiems, messaes and others known works by Bach, Vivaldi, Mozart, Beethoven, Brahms, Verdi: "Missa Solerrmis" and IX Symhony by Beethoven, "Requiem" by Verdi, "Year seasons" by Haydn, "Requiem" by Schnittke, "Credo" by Penderecki and series of a choir concerts.
"Dumka" is professionally-skilled chorus, the most complicated contemporary works are easily performed by singers. Audience is charmed by beautiful voices as well as by high level of professional skill. It is desirable performer abroad. "Dumka" has worldwide toured successfully, it has performances at large stages of the most prestigious concert halls in Poland, Austria, Germany, France, Spain, Belgium, Holland, Italy, Switzerland, Great Britain, USA and Canada.
"Dumka" is awarded Order of the Red Banner of Labour (1972) and National T. Shevchenko Prize (1981).
information from:
http://www.anm.odessa.ua/mic/mic-cbase.html
photo from:
http://ukrcentre.ucoz.ua/photo/