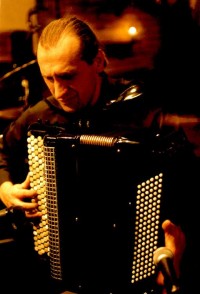 Konstantin Strelchenko
(accordion) is a teacher of the School of Variety and Jazz Arts of Kiev Ukraine, of variety and jazz class for bayan and accordion. He is graduate of the Donetsk State Conservatory of S.S.Prokofyev's name (a class of senior lecturer Dolzhikov V.N.), the winner of the international jazz festivals of Ukraine, Grand prix of 6th International festival "Music World" Fivizzano Italia-2003.
He is playing accordion from the age of four years. The first musical lessons he has got from his parents (Zoya Pavlovna and Martin Alexandrovich Strelchenko). He has finished Mariupol Musical School in 1982 (a class of a teacher Tovstun V.V.) and Mariupol Musical College in 1986 (a class of a teacher Shkarupa N.P.) and Conservatory in 1994. During of the teaching he was engaged concert work, took part in the republican and city competitions of the accordion's players of classical and folk music and got prize-winning places.
K.Strelchenko has organized the collective of the musicians in 1995 and he continued to play jazz concerts and to part at the festivals of Ukraine and abroad in structure of the trio (a contrabass, a percussion, an accordion) and solo also. Now he is a head of the Strelchenko-Band.
His concert program consists of jazz arrangements in styles: blues, ballad, swing, latin, variety show, and also music of the composers from Great Britain, France, the USA, Latin America, national music, his music and music of the easy genre.
K.Strelchenko has developed technique and manner of the accordion play in variety and jazz styles, on the basis of the analysis of creative works and video-schools of musicians known all over the world, such as: Art Vandam (USA), A.(Tony) Murena (Italy), Richard Galliano (France), Igor Bril (USSR), Yan Tabachnik (USSR), Valery Kovtun (USSR), Chick Corea (Spain), John Scofield (Great Britain), Dennis Chembers (USA), Peter Erskine (USA), Jaco Pastorius (USA), Eric Marienthal (USA), John Patituchi (USA).