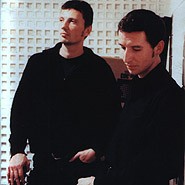 The duo's name SV acoustic is quiet prosaic: "SV" are simply the initials of Solntsev Vyacheslav (b.1967) and Stetsenko Vladimir (b.1963); "Acoustic" speaks for itself.
"Waitin' For" is one of the first Ukrainian CD's representing original acoustic guitar music that has recently been enjoying a burst of public interest. (...)
The duo's obviously modern style synthetically incorporates elements of classical music, folk, flamenco, country, jazz and new age, which often called "No Style" or "World Beat".
The duo was founded in February 1994. Both of the musicians have classical education and solid experience of session musicians. Together they have worked in France and Luxemburg. (...)
Alex Kogan
photo and information are from the booklet to the CD "Waitin' For"