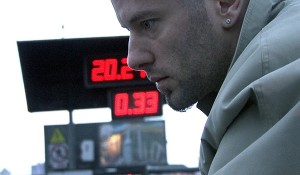 Svet
was born in Serbia, in 1976, where started to play bass guitar in teenage grunge-punk band. At the age of 17 moved to Ukraine, achieved degree in architecture and continued to play on different instruments just for fun. From 1997 switched to vocals and made few more music steps with original
Samosaboyzz
band, Unity band,
ManSound
. From 2004 took part in few
Kofein studio
projects, and from 2006 became a member of
Shopping Hour
project band, taking part in different TV and radio shows, live music shows and festivals, performing on the same stage with
Rosava
,
Kryhitka Cahes
and others. Featured vocalist and back-vocalist in many studio projects (
Lotus feat. Rosava
, Rosava,
Alena Popova
etc.). On December 2007 together with
Tanya Sha
recorded first song for Ten Step Journey debut, which officially released in October 2009, with a help of friends and musicians –
Alexey Kogan
, Andrey Malakhov,
Igor Zakus
,
Dima Bobeen Alexandrov
and many others. At present time he's preparing live material together with Heinali, well known electronic musician from Kiev.
on MySpace:
http://www.myspace.com/svet_music