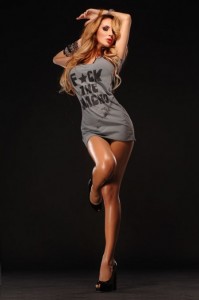 Svetlana Loboda
was born in Kyiv on October 18, 1982. From early childhood she went to a music school where she learned to play the piano and at the same time mastered the art of singing and conducting.
Having finished the music school Svetlana didn't give up her music studies and entered the department of variety singing at Kyiv Variety And Circus Academy. As a 1st year student, Svetlana Loboda becomes a participant of the band "Cappuccino". Very soon she leaves the band and embarks on a free career.
In 2003 Svetlana Loboda participates in the casting for the 1st Ukrainian musical The Equator where she gets the leading role of Mirana.
On December 28, 2003, Svetlana starts a new band – "Catch". She works out the repertory and stage costumes and all through the Christmas holidays "Catch" performs their show in various night clubs of Kyiv. It is then that she was noticed by Dmitriy Kostyuk, producer of the band
VIA Gra
.
In 2004 Loboda came to the casting for VIA Gra band. Thanks to her vocal, choreography, and appearance she managed to surpass nearly 500 rivals and became a new soloist of VIA Gra. Interestingly, up to the final rounds of the competition Svetlana didn't know what band the casting was for.
Svetlana's first appearance as a participant of the band was a performance in the contest show "Fabrika Zviozd" (Star Factory) and the first music video with her was the sexy blockbuster "Biologiya" (Biology).
However, after 5 months in the band Svetlana realized that she didn't want to be a part of "VIA Gra" any more. She lacked freedom for working in this band meant a lot of restrictions.
And that was the beginning of her solo career. At the end of November 2004 Svetlana Loboda shot a music video "Cherno-Belaya Zima" (Black-and-white Winter) and in a year, in November 2005, she released her début album "Ty Ne Zabudesh" (You Won't Forget).
Svetlana's fourth clip "Cherny Angel" (Black Angel) with Nadezhda Granovskaya (Meikher), Svetlana's close friend and incidentally ex-participant of "VIA Gra", appearing in it became a true landmark.
In 2006, Svetlana  was the anchorwoman of the TV program "ShowMania" on "Novy" channel and in 2007 was a host of "Miss CIS" on "TET" TV channel. At the same time the singer started a tourist agency of her own "Happy Vacations".
On October 18, 2007, Svetlana Loboda organized an exhibition of her photos dedicated to India.
In 2008, the singer released the album "Ne Macho" (Not a macho).
April 23, 2008 saw the launch of her clothing line bearing the name "F*ck the macho".
Svetlana's first all-Ukrainian tour is being prepared for autumn 2008.
2009
: On May, 14, Svitlana Loboda represents Ukraine at the international song competition
Eurovision-2009
in Moscow...
information from official site: http://www.svetlanaloboda.com/
photo from: http://www.utro.ua/gallery/image/9287/