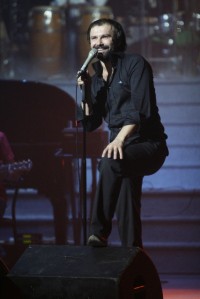 Svyatoslav Vakarchuk
is the lead vocalist of
Okean Elzy
, the most successful post-Soviet rock band in Ukraine. He is the son of Ivan Vakarchuk, a professor of physics at Lviv University and the former Minister of Education and Science in Ukraine. He was active in supporting the Orange Revolution, and is involved in many social and cultural projects. He is one of the most successful musicians in Ukraine and has a degree in theoretical physics.
In the early parliamentary elections on September 30, 2007 he appeared as an independent candidate on the Our Ukraine–People's Self-Defense Bloc's list (as nr 15). In the Verkhovna Rada (Ukrainian parliament) he was a member of the parliamentary committee for freedom of speech questions. In early September 2008 he renounced his seat in the Verkhovna Rada due to the political situation.
In 2008 Svyatoslav Vakarchuk released a solo project "Vnochi" (In the Night). This album was released under the name of Svyatoslav Vakarchuk, but it includes appearances by all members of "Okean Elzy" and other various guest musicians.
From
Wikipedia, the free encyclopedia
.
photo from:
http://life.pravda.com.ua/wonderful/49119f453acdb/