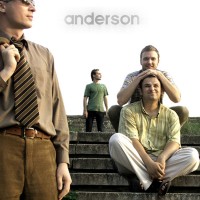 THE ANDERSON
– alternative rock band from Kyiv, Ukraine, was founded in summer 2003.
In 2008 the Anderson released their first album "SlovoZbroya" (SwordWord). The Anderson plays alternative rock, the mixture of grunge, hardcore and nu metal.
The album contains 12 tracks in Ukrainian language. Their lyrics are meaningful and scoff at chaos in policy and make fun of fucked up marginal jerks. Some songs are revolutionary appealing (Pravyla Gry – Game Rules), some are reality revealing and fun (Spojyvach –Consumer, and Shaggy). The song "Give the Weapon to the Children" incites a riot in an average thinking listener. The headline song the SwordWord says how powerful is the word and how mighter it could be than the weapon. The video on the headline SwordWord shows the picture of World War II which is literally defeated by the Word of Love. The video is ready to be launched on central Music TV channels. .
The song Potiag – "The Train" has the double meaning in Ukrainian language and means lust and appetency.
But the best way to know the Anderson music is to watch them live! They drive the crowd crazy by their energy and sound.
information from:
http://www.myspace.com/theanderson
photo from official site:
http://anderson.kiev.ua/