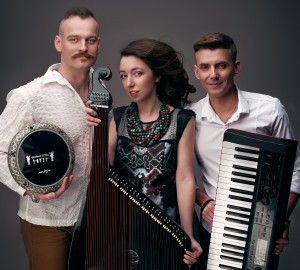 Troye Zillia: the band plays Ukrainian folk songs in modern arrangements. They experiment with bandura and piano-synth-percussion sound without sticking to one style or genre of music. They have great contact with the audience and love performing live. Members of the band play in different folk, jazz and indie projects. They are also active in the theatre field.
​On Troye Zillia's concerts you will always feel yourself as a part of the performance, because the band likes to interact with the audience.
​​If you even forgot when you last time attended really positive party - then visit the concert of Troye Zillia! They will make your evening unforgettable: you will meet Ukrainian traditional instrument - bandura and dip into magical world of Ukrainian folk songs.
information, photo from the site: https://ukrainianmusic.wixsite.com/troyezillia