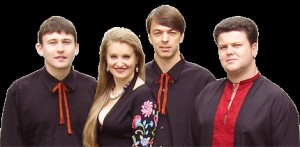 The musical project
UKRAINIAN BARVY
(COLORS) is a vocal-instrumental ensemble which has its start in 1999. All four performances are classically trained musicians, individually active in the world of classical music in Kyiv and other Ukrainian centers of culture. The primary goal of the project is to demonstrate to the international audience the great diversity of Ukrainian music. Thus Ukrainian Barvy performs church, classic, folk, modern and pop music. We tour Ukraine and Europe extensively. In particular they have been to France, Hungary, Germany, Poland, Serbia and many others. Since 2000 UKRAINIAN BARVY has toured the United States many times, maintaining a busy schedule to satisfy the great demand for their appearances in cities where there is a concentration of Ukrainian heritage audiences.
The main aim of the project is to demonstrate to the world audience the whole diversity of Ukrainian music. The music played is not limited by any definite style. The ensemble plays old church, folk, classic, modern and pop music. In the ensemble repertoire there are many musical experiments such as remixes of Ukrainian songs with the elements of rock-n-roll, jazz, country music, as Ukrainians never stood aloof the modern trends in music.
In the program of the performance that lasts one hour and a half there are Ukrainian songs, texts, instrumental music, theatrical scenes, which have a common plot, scenic effect and are percepted as a whole theatrical and musical performance.
The ensemble has recorded five CD albums.
Our repertoire includes various genres: folk songs, original compositions, pagan ritual songs, old church music, classical and popular music. The works are presented in various forms: a cappella, instrumental, solo musical numbers, duets, trios, quartets, etc.
The ensemble uses the following instruments: violin, clarinet, accordion, folk flute (sopilka), bass sopilka, bells, zozulia, telynka, dvodentsivka, drymba, various drums, banjo and others. Each of us sings and plays several folk instruments.
We intent to develop modern Ukrainian music based on folk cultural heritage. Our aim is to reinforce the authority of Ukraine among the developed countries in the world, promoting Ukrainian art and the information about our country.
Leader and soloist of collective
Oksana Stebelska
and his participants:
Roman Kuka,
Volodymyr Hodlevskyy,
Svyatoslav Kondratyev
.
information, photo from official site:
http://www.ukrbarvy.ho.com.ua/