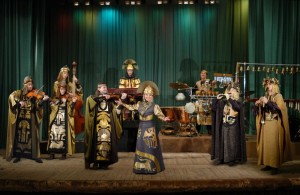 Grand Prix holder and winner of other awards at international competitions, the
Ukrainian music ensemble Dnipro
was established in 1995. The ensemble aims to popularize Ukrainian folk music and advance its standards to new professional levels.
In 2000, Dnipro released the CD Spring Water, which includes outstanding examples of Ukrainian instrumental folk music (works by V. Popadiuk, P. Terpeliuk, D. Popichuk, M. Tymofiyiv), and compositions of younger composers (S. Orel, L. Mateyko, V. Heker), together with Ukrainian folk romances, humorous songs, and ceremonial custom solos performed by the Merited Artist of Ukraine, O. Kulyk.
Sensitivity to the style and manner of national folk expression, and unique and varied musical offerings create an exceptional, brilliantly national tonality. The creative signature of the ensemble distinguishes itself by an unusual exploitation of colourful effects and search for non-standard means of musical expression, which permit an organic synthesis of classical, folk and contemporary styles (folklorist K. Bozhko).
The album is dedicated to the memory of the eminent performer, musician-sopilka virtuoso, and founder of the ensemble Troyisti Musyky, National Artist of Ukraine, Vasyl Popadiuk.
Folkloric Metamorphosis "Descendants of the Sun" (Mono opera):
Created in 2001 with the support of the Pechersk Rayon Administration of the City of Kyiv.
"...This work belongs to the genre of mono opera, which is as unusual in form as in content...
Working with a traditional folk ensemble – fiddles, cimbalom, acoustic bass, the composer incorporates many Ukrainian ethnic wind and percussive instruments. He daringly breaks classical rules of folkloric tonality, and emerging from its spirit, takes advantage of avante garde techniques in musical notation, and folk rock and jazz idioms.
This is a search for a sound, for new riffs and structures. At the same time, it is not a collage but a unity and naturalness of expression – an original style that gives birth to a poem full of life, love, struggle, faith and hope." (O. Yevtushenko)
information, photo from official site:
http://dnipro-art.com.ua/
in English:
http://dnipro-art.com.ua/mod/eng/index.html