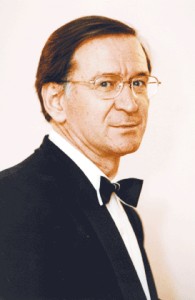 Valeriy Matiukhin (b 1949, Kharkiv) - laureate of the Shevchenko National Award (2006), National Artist of Ukraine (2004), Merited Artist of Ukraine (1987), winner of the Ostrovsky Award (1986), well known Ukrainian conductor, pianist, performer of many premieres of works by contemporary Ukrainian composers.

Valeriy Matiukhin graduated from the Tchaikovsky Kyiv State Conservatory in 1973 as a pianist, studying with O.H. Kholodna. In 1975 - 1980 worked as pianist-clavichordist with the Kyiv Chamber Orchestra. 1980 - 1991 - soloist of the Kyiv State Philharmonia. In 1977 organised the Chamber Music Ensemble of the Composers' Union of Ukraine, which in 1989 was renamed the Kyiv Kamerata Ensemble of Soloists, and in 2000 became the Kyiv Kamerata National Ensemble of Soloists.

Valeriy Matiukhin, in his capacity as director of the Kyiv Kamerata, has actively propagated Ukrainian music in all of its styles and genres. The premieres of works by many contemporary Ukrainian composers have taken place under his direction, including those of Valentyn Silvestrov, Yevhen Stankovych, Volodymyr Zubytskyi, Ivan Karabyts, Oleh Kyva, Vitaliy Hubarenko, Myroslav Skoryk, Vitaliy Hodziatskyi, Leonid Hrabovskyi, Volodymyr Zahortsev, Ihor Shamo, Yuri Ischenko, Hanna Havrylets, Ihor Scherbakov, Zoltan Almashi, Karmella Tsipkolenko, Oleksandr Kozarenko, Oleksandr Levkovych, Iryna Kyrylina, Yuri Laniuk and many others. During his concerts, Valeriy Matiukhin always makes an efforts to present Ukrainian works together with international works to ensure that Ukrainian composers are always promoted on an equal level. During the Musical Dialogues concert series he has presented the following programmes: Ukraine - Austria; Ukraine - USA; Ukraine - France; Ukraine - UK; Ukraine - Finland; Ukraine - Germany; Ukraine - Italy; Ukraine - Estonia; Ukraine - Russia.

The Kyiv Kamerata takes part in well known international festivals, arts activities and actively tours internationally with performances in France, Germany, Austria, China, USA, Italy, Lebanon, Croatia, Czech Republic, Georgia, Armenia, Russia and other countries.
Lunina Annà , musicologist
information, photo from: http://www.kievkamerata.lucky-staff.com.ua/eng/valeriy