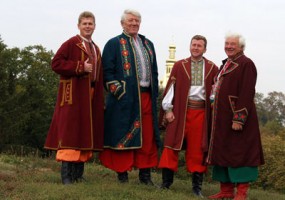 The male vocal quartet "Yavir" derives its name from the silvery sycamore maple known from a good many of Ukrainian folk songs.
Every singer of this quartet is endowed by nature with the voice unsurpassed in its beauty and expression.
The baritone of Volodymyr Didukh and the bass voice of Valentyn Reus, the tenor voices of Yuriy Badun and Evhen Belskiy when pouring out together ring out in an exceptional harmony.
The artists are imbued with a refined feeling for the nuances of the Ukrainian folk song.
The songs are performed in the style of a a cappella, as well as with orchestra, accordion accompaniment or piano.
Emotionally colorful and expressively vivid scenic presentations of the quartet make the performance range of this one of the leading artistic groups in the Ukraine boundlessly versatile.
Yavir`s colorful and dynamic performance are applauded by audiences all over the world.
Their vocal style and polished performance, as well as their commanding stage presence make them an all – time favorite ensemble with young as well as older audiences.
information, photo from official site:
http://yavir.com.ua/