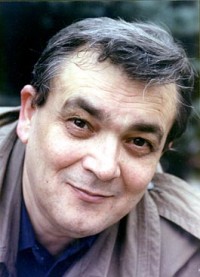 Yevhen Stankovych (b. 1942, Svaliava, Transcarpatian Region, Ukraine)
Yevhen Stankovych is one of the central figures of contemporary Ukrainian music. A prolific composer, he has, since 1966, authored 6 symphonies, an opera ( When the Fern Blooms ), 5 ballets, a large number of works in the oratorical, vocal chamber and instrumental chamber genres, as well as incidental music to 6 music theatre plays and over 100 films.
Born 19 September 1942 in the city of Svaliava Yevhen Stankovytch studied music in the music institute of Uzhgorod. Stankovych began his university studies at Lviv Conservatory and following his first year tranferred to the Kyiv Conservatory where he studied under Borys Lyatoshynsky, and later under Myroslav Skoryk.
Beginning with his first compositions, Stankovych declared himself as a composer of dramatic temperament, not adverse to emotional risk. The composer's elaborate polyphonic textures and meditative lirycysm are reminiscent of the strict instrumental style of Baroque music, while the full-bodied affects with the obvious post-romantic colouring give the music warmth and expressiveness. His music is remarkable in many respects, showing his emotional freedom, consummate technical mastery and flexibility of form.
Yevhen Stankovych is the recipient of several major awards. His Chamber Symphony ¹ 3 was selected by UNESCO's World Tribune as one of 10 best works of 1985. He has been recognised with several awards in Ukraine, including the country's highest award for artistic creativity, the Taras Shevchenko State Award.
The composer's works been performed in Canada, the U.S.A., Germany, France, Switzerland, Finland, Spain, China, the Filipines and Yugoslavia, in addition to performances in former U.S.S.R. and in countries of Eastern Europe. In January 1992, he was the senior juror at Canada's First Contemporary Music Competition held in Winnipeg and has been featured at contemporary music festivals in Germany and Poland. In 1996, he was composer-in-residence in the Canton of Bern, Switzerland.
His works have been recorded on Melodiya, Analekta, ASV and Naxos labels.
Yevhen Stankovych is chair of the Faculty of Composition at the Kyiv Conservatory and former Chairman of the Composer's Union of Ukraine.
information, photo from official site:
http://www.stankovych.org.ua/en