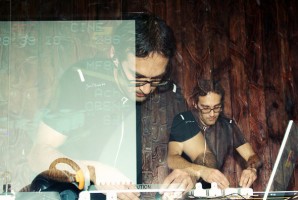 Younnat is a side project of Oleg Serdyuk, keyboardist of easylistening&funky band Luk (Ukraine). His experimental electronic music-oriented solo efforts is differ from his work with Lyuk enough. The sound of Younnat have more eclectic and experimental coloration.
Oleg began releasing material as Younnat in March 2007 with the 23 minute and 09 second single "The Duct" on Bump Foot Japanese netlabel. Later, "The Duct" was re-released on Planear Records (Argentine netlabel). Oleg just finished to work on album "Ryba" and now he looking for label to release full CD.
Live of Younnat is some different from his romantic and sometimes serene electronic album's tracks. In his performance he uses various interesting electronic devices like racing wheel, joystick, gamepad, desktop keyboard and some handmade controllers. He plays them with striking ease, so gives a drastic break bit and D'n'B.
information, photo from official site:
http://www.younnat.com/