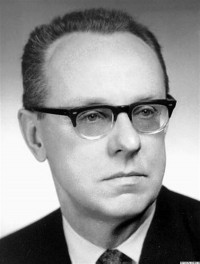 George Yurii Shevelov
(Ukrainian: Шевельов Юрій Володимирович). (pseud: Yurii Sherekh, Hryhory Shevchuk, Šerech, Sherekh, Sher; Гр. Ш., Ю. Ш. and others), (December 17, 1908, Łomża - April 12, 2002, New York) - Slavic linguist, philologist, essayist, literary historian, and literary critic. A longtime professor of Slavic philology at Columbia University, he challenged the prevailing notion of a unified East Slavic language from which Ukrainian, Belarusan and Russian later developed, instead proposing that these languages emerged independently from one another.
Shevelov prepared and published more than 600 scholarly texts concerning different aspects of the philology of the Ukrainian and other Slavic languages. From 1943 he developed the concept of the distinct establishment and development of Ukrainian and, later, Belarus languages. Shevelov argued against the commonly held view of an original, unified East Slavic language from which Ukrainian, Belarus and Russian languages diverged and instead proposed the existence of several dialectical groups (Kieven-Pollisyan, Galician-Podolian, Polotsk-Smolesnsk, Novgorodian-Tversk, Murom-Ryazansk) that had been distinct from the beginning and which later formed into separate Ukrainian, Russian and Belarus languages. According to Shevelov, the beginnings of a separate Ukrainian language could be traced to the 7th century while the language formed in approximately the 16th century.
information from
Wikipedia, the free encyclopedia
photo from:
http://www.radiosvoboda.org/