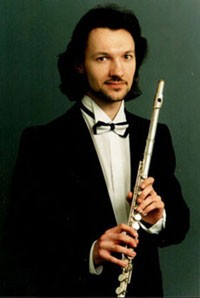 Honoured Artist of Ukraine, Laureate of International Contests,
Soloist of National Philharmonic Society of Ukraine
Yuriy Shutko
was born in Poprad (Slovakia) in 1968. Entered Lithuania State Conservatory, class of Professor Algirdas Vizgirda, in 1986.
Since 1989 had been studying at Kiev State Conservatory. Entered the graduate school of the Ukrainian National Music Academy "Tchaikowsky" and graduated from it in 1996. The same year he was trained at the Inernational University of Music in France with professors Lidiya Oshavkova (flute), Pierre Pierlot (ancient music), Lierco Spiller (chamber ensemble), Migel Estrellab (theory of music). For his years of learning he has been attending master classes and was trained withAndras Adorian ( Germany), Aurele Nicolet (Switzerland), Samual Saulus (Estonia), Yuriy Dolzhikov (Moscow), Glreb Nikitin (Sankt Pitersburg).Yuriy Shutko was awarded by Diploma of the II Interrepublican Contest of woodwinds' performers (Kishinev, 1987). He is a laureate of IV Republican Contest of woodwinds' performers (Rivne, 1990), First International Contest of chamer music " Gold Autumn" (1993, I prize and gold medal), IV International Contest of performers named after Pierre Lantier (Paris, 1994, Grand Prix), IV International Contest WASB (1997, I prize). Sience 1999, Yuriy Shutko has been playing the only Easten Europe golden flute produced by Japanese firm SANKYO. In his repertoire there areworks of composers of the whole world created during last 300 years. Yuriy Shutko is a member of the international music festivals, Yuriy is a member of the international competitions for winds. As a soloists he works with all Ukrainian orchestras. He performed with such conductors as S. Sondeckis, U. Sneider, S. Winyarzyk, M. Kolessa, S. Camartin, M. Arcadyev, V. Sirenko, M. Dyadyura, V. Blinov, Y. Lutsiv, R. Kofman. As a chamber musician he played with violinist B. Kotorovych and pianist M. Suk. He has TV and Radio recordings. He is the first performer of a number pieces for flute. From 1993 he is a soloist at the National Philarmonic Soceity. From 1997 - Professor at Junior Academy of Arts and Glier Higher Musical College.
information, photo from official site:
http://www.shutko.com.ua/