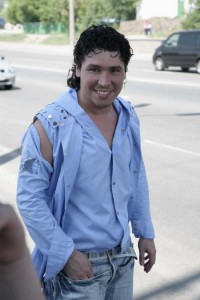 During his 10 year creative activity,
Zakhar
has participated in various competitions and festivals
("Chervona Ruta", "Slavyanskyi Bazar", "Melodiya" etc.) in which, he met with both measured success and failure.
He started his musical career when he began singing in
choir "Dudaryk"
, to which he dedicated 8 years of his creative life.
In 1998, Zakhar, together with a couple of friends, founded a band called "The fourth attempt" (Chetverta sproba), which was entertaining its fans with songs in popular youth styles.
In 2002, he formed the band "Na Vsi 100 (sto)" , which became his first successful project and in the same year Na Vsi 100's songs' became the most requested across Ukraine's national radio pop music stations.
In 2003 the band were published on the World Wide Web - www.navsi100.com -which is now one of the best informative and entertaining portals of Ukrainian music.
That very year though, the band seized its activity and Zakhar continued his career, solo. During this time, Zakhar expanded his notoriety, creating several radio programs and taking part in TV projects.
Zakhar's debut album "Pershyi" ("The first)", released in 2004, sold very well upon it's initial release, which was owed in no small part to pre-release radio/TV coverage.
In March 2005 Zakhar left his native city of Lviv and moved to the capital, Kiev.
In May of the same year, Zakhar, together with his colleagues set up a music company "Navsi100.com". The company promotes Ukrainian music and delivering music tracks and video to more than 100 radio stations in Ukraine.
In July 2005 Zakhar performed in Canada in the following year, in May, he held a concert in Rome, Italy.
In July 2006, Zakhar sets up his own recording studio in Kiev, where he records his second album "Whoever u r" ( Yaka b ty ne bula). The first video release, of the same name, now has 2 video clips, released both in Polish and Ukrainian.
Currently, Zakhar is promoting several music projects, radio & tv programs and Ukrainian music collections, where he promotes singers on his record labels and gives them valuable airtime and exposure.
information, photo from official site:
http://www.zakhar.com.ua/