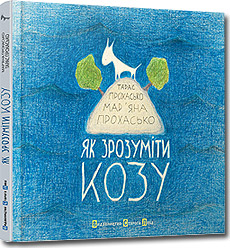 "The third book of the "mole epic" by Taras and Mariana Prokhasko will entertain both children and the adults who have not forgotten their having been a child. After all, it is only a child who can write letters to Nicholas sincerely believing that one may ask and get anything from him – from tangerines to a flying ship. And then on this ship with the poetic name of "Metaphor" one can leave for a journey to the sea – together with Murkavka, Povz, and their friends. One can dwell on an island and learn to understand... even a goat."
In Ukrainian.
Edition type: hard cover
Format: 238x210 mm
Number of pages: 80
Publisher: Vydavnytstvo Staroho Leva, Lviv
Contents:
Rozdil 1. "Chasom kazhut' – chornyy jak nich..."
Rozdil 2. "Takoji atraktsiji u Bukovomu lisi shche ne bulo..."
Rozdil 3. "Kafe "Pid dubom" spravdi bulo pid dubom..."
Rozdil 4. "Jakhta "Metafora" stojala na jakori poseredyni Riky..."
Rozdil 5. "A nastupnyy ranok... buv rankom dobrykh novyn..."
Rozdil 6. "- Rozkopayte mene! – klykala Zhuzhika..."
Rozdil 7. "Je nevelykyy v prostorakh mors'kykh ostrivets' kam'janystyy..."
Rozdil 8. "U Zhuzhiky zlypalysja ochi..."
Rozdil 9. "Kalimera...- vyrvalosja u Murkavky..."
Rozdil 10. "Zhyttja na ostrovi mozhe buty veselym..."
Rozdil 11. "Proshchal'nyy benket vidbuvsja naperedodni proshchannja..."
Rozdil ostanniy. Bez kintsja.