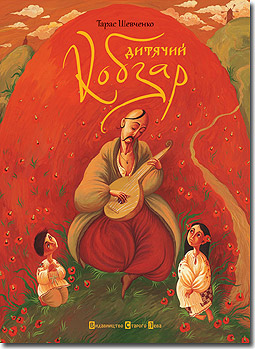 "Kobzar for children is not just a collection of the most famous poems by Taras Shevchenko, but an artful publications with bright illustrations. Paintings by Maryna Myhayloshyna emphasize words by our Great Kobzar and attract attention of both small and adult readers. Here is the Ukrainian village with bleached huts, and a Cossack leaving for a long journey, and, sure, a kobzar playing his kobza and singing songs about the glorious past..."
In Ukrainian.
Type of the edition: hard cover
Format: 218x290 mm
Number of pages: 63, illustrated publication
Publisher: Vydavnytstvo Staroho Leva, Lviv
Contents:
- Reve ta stohne Dnipr shyrokyy (uryvok z balady "Prychynna")
- B'jut' porohy; misjats' skhodyt' (z virsha "Do Osnov'janenka")
- Sontse zakhodyt', hory chornijut'
- Krychat' sovy, spyt' dibrova (z poemy "Kateryna")
- Vesna. Sadochky zatsvily (z virsha "Chuma")
- I barvinkom, i rutoju (z poemy "Nevol'nyk")
- Vstala vesna (z poemy "Haydamaky")
- Selo! i sertse odpochyne (z poemy "Knjazhna")
- Svitaje (z poemy "Son")
- Zore moja vechirnjaja  (z poemy "Knjazhna")
- Sadok vyshnevyy kolo khaty
- Oy strichechka do strichechky
- Uchites', chytayte (z poemy "I mertvym, i zhyvym, i nenarodzhenym...")
- Oy dibrovo – temnyy haju!
- Orysja zh ty, moja nyvo (z virsha "Ne narikaju ja na Boha")
- Reve, svyshche zavirjukha (z poemy "Kateryna")
- Barvinok tsviv i zeleniv
- Zapovit
- Dumy moji, dumy moji (skorocheno)
- Son
- Zatsvila v dolyni (skorocheno)
- I dosi snyt'sja: pid horoju
- Plach Jaroslavny
- Topolja (uryvok z poemy)
- Oy po hori roman tsvite
- Lita orel, lita syzyy (z poemy "Haydamaky")
- Nash otaman Hamalija (z poemy "Hamalija")
- Chernets' (skorocheno)
- Teche voda z-pid javora
- Viter vije-povyvaje (z virsha "Perebendja")
- A.O.Kozachkovs'komu (skorocheno)
- Na Velykden', na solomi
- Nasha duma, nasha pisnja (z virsha "Do Osnov'janenka")
- Na rozputti kobzar sydyt' (z poemy "Tarasova nich")
- Jakby vy znaly, panychi
- Meni trynadtsjatyy mynalo
- U nashim raji na zemli