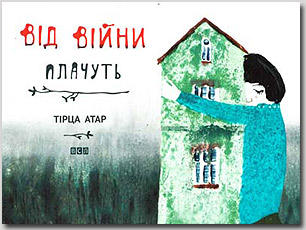 "These poems were composed by Israeli poet Tirza Atar – a very special, delicate and sensitive nature. She composed them long ago, in the mid 70s. Sure, not about our reality – but about theirs, for the war has long been grown into normal lives of people there. And it is creepy that these poems – written on behalf of a seven year-old Jewish girl – are so much in unison with our reality.
And Kateryna Sadovschuk created the illustration. Both the poems, and the drawings permeate...
"They Cry Because of War" – this is the title of this small book. Yes, they cry because of war. This seems to be the most accurate definition of what a war is."
Translated from Hebrew by Anya Khromova
In Ukrainian
.
Illustrations: Kateryna Sadovschuk
Edition type: hard cover
Format: 240x170 mm
Number of pages: 22. illustrated
Publisher: Vydavnytstvo Staroho Leva, Lviv
Contents:
- "Uchora ja bula na viyni..."
- "Tatochku, ljubyy, khoroshyy, kokhanyy..."
- "Hospody Bozhe, Volodarju zemli i neba..."
- "Nam vchytel'ka rozpovidala..."
- "Na uljublenomu parkani..."
- "Mojemu bratyku kupyly rushnytsju..."
- "U zviriv nemaje armiji..."
- "Mama sydyt' pry stoli i pyshe do tata..."
- "Tato pryjide dodomu v subotu..."
- "Nemaje choho khvyljuvatys'. Use bude dobre..."
- "Pryvit, miy soldate, zdrastuy..."
- "Tato Yokhaja..."
- "Miy bratyk bojit'sja..."
- "Tsilyy den' mene prosjat' ity sobi..."
- "Moja babusja duzhe khorobra..."
- "I PTAShKY KhOChUT' MYRU"