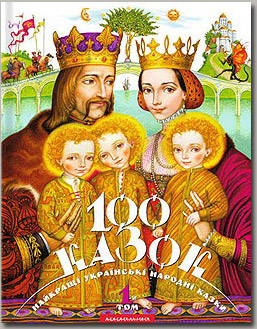 "This is the first volume of the planned three-volume edition "100 Fairy-Tales", work over the book continued for over 7 years. One of the most successful books of the publishing house. One of leaders of sales among premium colored editions. Work on the audio version of "100 Fairy-Tales" has started.
"Malkovych seems to never to fall short of creative ideas, genial in their simplicity. "100 Fairy-Tales" is a collection of the best Ukrainian folk tales. Due to editing by Malkovych even stories familiar from childhood sound fresh. And drawings by the best Ukrainian illustrators – Yerko, Lavro, K.Shtanko et al. transform every book into a work of art. As a result, it is difficult to define which is better – the texts or the design. Literature can hardly replace television or cinema for children today. But if it is capable of doing it in principle, this can be done exactly by such publications as "100 Fairy-Tales". "Correspondent" magazine, No. 1, 2006.
(information provided by the publisher)
Awards:
- The best book for children of the year (the National Contest "Book of the Year 2005")
Illustrations: Vladyslav Yerko, Kost Lavro, Kateryna Shtanko, Viktoria Palchun, Volodymyr Harchenko, Oleksiy Kolesnykov, Oleg Petrenko-Zanevsky
Compiler: Ivan Malkovych
In Ukrainian.
Age group: for little ones from 2 to 102
Edition type: premium, colored, hard cover
Format: 240x305 mm
Number of pages: 160
Publisher: A-BA-BA-HA-LA-MA-HA, Kyiv
Contents:
- Vid redaktora
- Kurochka rjaba
- Rukavychka
- Kotyk ta pivnyk
- Ivasyk-Telesyk
- Hole teljatko
- Lysychka ta zhuravel'
- Solom'janyy bychok
- Kyrylo Kozhum'jaka
- Sestrychka ta jiji bratyk zolotyy baranchyk
- Kryven'ka kachechka
- Ripka
- Lysychka-sestrychka i vovk-panibrat
- Jak Ivan husy dilyv
- Tsyhan-mandrivnyk
- Zolotyy cherevychok
- Try bazhannja
- Lysychka-sestrychka
- Pan Kots'kyy
- Rozum i Shchastja
- Try braty
- Vovk, sobaka ta kit
- Pro mudroho khlopchyka
- Jak panok balakav po-nimets'komu
- Try zolotokucherjavi knjazhychi
- Jak durnja zhenyly
- Bukh Kopytovych
- Sirko
- Zmiy
- Pro vchenoho byka
- Vovk-koljadnyk
- Zaliznonosa bosorkanja
- Mishok hlyny
- Jazykata Khves'ka
- Okh
- Jak Boh ljudjam i tvarynam dilyv lita
- Kozak Mamaryha
- Illja Muromets'
- Jaytse-raytse