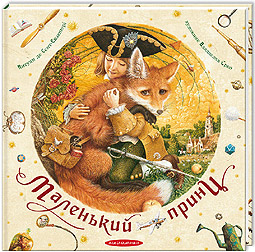 "The distinguished French writer Antoine de Saint-Exupery was a brave pilot. Once, on his little postal plane, he even crossed the Atlantic – it was a world record. Once, the writer crashed over the Libyan desert, and while for ten days he was repairing his plane, a little desert fox kept visiting him. They made friends. Subsequently, after that adventure Exupery wrote his most outstanding masterpiece – the fairy tale "The Little Prince"...
The book was illustrated by the famous Ukrainian book designed
Vladyslav Erko
. Some drawings by Antoine de Saint-Exupery are also used in the fairy-tale.
You can look
through some of the artwork here:
http://umka.com/eng/news/
Translated from French by Oleh Zhupansky
In Ukrainian
.
Illustrations: Vladyslav Yerko
Edition type: premium, colored, hard cover
Format: 280x280 mm
Number of pages: 64
Publisher: A-BA-BA-HA-LA-MA-HA, Kyiv