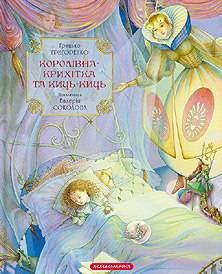 "The good and sensitive Tiny Princess wants to help all those poor and miserable. She is ready to give them every most valuable thing that she has. But one day, in order to protect the royal treasury against evisceration, the father king passes the order to drive out all beggars behind the gate of the royal palace. And then something incredible happens – in a dream, the Tiny Princess is visited by a good fairy with the magic Kitty, and real miracles begin..."
The fairy tale is taken from a story by Olexandra Sudovschykova-Kosach – the wife of Lesya Ukrainka's brother who signed her works with the male name Hrytsko Grygorenko. The book was illustrated by the known American artist of Ukrainian origin Valeria Sokolova, who dedicates it "in memoriam of the beloved grandmother Oleksandra Kovalenko with gratitude for "Ivasyk-Telesyk" and other fairy tales..."
Premium edition, luxurious color illustrations.
In Ukrainian.
Type of the edition: hard cover
Format: 200x250 mm, illustrated edition
Publisher: A-BA-BA-HA-LA-MA-HA, Kyiv