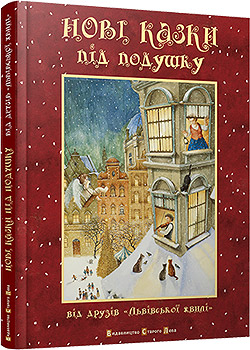 "New Fairy-Tales Under the Pillow" is a collection of eight wonderful Christmas stories recited by the well-known and favorite "Lviv Wave" radio hosts and their friends.
Sashko Lirnyk
,
"Pikkardiyska Tertsiya"
,
Natalka Karpa
, the band "Patyrytsiya", and
"Antytila"
remind us about that music lives in every soul, the good is always returned hundredfold, while a talent and a bit of confidence can turn over the world. Supplemented with fantastic illustrations by seven artists, each of them having their individual style and individual sense of wonder, these stories will be a good excuse to sit in the family circle on a cozy winter evening and to even for a little while dive into the fairy-tale."

In Ukrainian
.
Illustrations: Iveta Klyuchkovska, Andriy & Diana Nechaevsky, Rostyslav Popsky, Yevhenia Muronyuk, Natalka Hayda, Olha Kvasha, Maryna Shuturma
Edition type: hard cover
Format: 220x290 mm
Number of pages: 56, illustrated
Publisher: Vydavnytstvo Staroho Leva, Lviv

Contents
:
- Andriy Antonjuk. Dyvo pered Rizdvom
- Dotsyk (Oleh Mykhal'chuk). Us'omu sviy chas, abo Palka molytva
- Lirnyk Sashko. Kazka pro ternovyy pyshchyk, dyvnoho khloptsja i Manu, shcho z duba vpala
- "Pikkardiyska Tertsija". Kazka pro charivnu skrypochku
- Natalka Karpa. Bilochka ta rizdvjani horishky
- Marianna Firtka. Luka, shcho navchyvsja spravzhn'oji mahiji
- Iryna Panchyshyn (Patrytsija). Tak buvaje na Rizdvo
- Taras Topolya (Antytila). Jakshcho zakhotity...