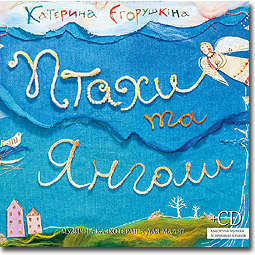 "This is the third book in the unique series created by Kateryna Yehorushkina and Stefan Nederytsya. This time – an amazing story of two twin sisters who seek for their OWN answers to the questions: "Where do children come from?" and "What is the secret of appearance of twins?" It would seem that for an adult person these are simple questions, but not for the fairy-tale and mythological minds of children! They do not look for ready-made answers and pass through their own interesting path full of adventures.
The entire story is full of vivid imagery, psychological insights, deep symbolism, and elements of the Ukrainian mythology. The narration includes deep spiritual lessons taught in an easy format and flavored with delicate humor.
Especially for this book, Stefan Nederytsya compiled a music album harmoniously combining classical music with the sounds of birds: swans, cranes, sparrows, gulls, lyrebirds, jays, bellbirds, etc. When preparing this disc, lots of works by the contemporary Ukrainian genius – composer
Dmytro Krasnoukhov
– have been used. And the "cosmic artist with Spanish roots" Pauline Rodriguez complemented the fairy tale world of the book with her original illustrations of patchwork, threads, grains, and even screws..."
In Ukrainian
.
Illustrations: Polina Rodriges
Type of the edition: hard cover
Format: 236x224 mm, illustrated edition
Publisher: Nederytsa S., Kyiv
Contents
:
1. Jak prava noha vmovljala livu
2. Tsikave znayomstvo
3. Kil'ka sliv vid janhola
4. Superechka
5. V'jazani sny
6. Nytjanyy ptakh
7. Charivni vuzlyky
8. Svit pershyy: Sribni ptakhy
9. Svit druhyy: Lebedi
10. Svit tretiy: Nemudri ptakhy
11. Svit chetvertyy: De narodzhujut'sja janholy
12. Svit p'jatyy: Leleka
13. Svit shostyy: Ptashynyy ray
14. Svit s'omyy: Yriy
15. Povernennja dodomu
16. Epiloh
- Pro proekt
- Slovo vydavtsja
- Pro avtora