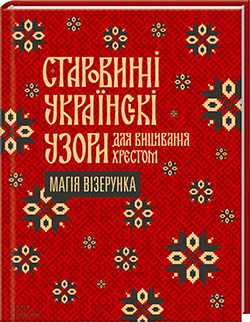 "From ancient times, embroidery on clothing was a protective charm that averted disaster and attracted good luck.
With this book, every craftswoman will be able to embroider neat patterns on shirts, towels, and children's clothes. There are color schemes and vivid pictures of traditional patterns from the different regions of Ukraine with explanations on the meaning of symbols. Find out what embroidered viburnum, poppy, rose, hop leaves, peafowls, the sun, stars, etc. symbolize…"

In Ukrainian
.
Type of the edition: hard cover
Format: 198x260 mm
Number of pages: 144, illustrated
Publisher: Bookclub, Kharkiv

Contents
:
- Vstup
1. Symvolika ukrajins'koho ornamentu
- Kalyna
- Dub
- Vynohrad
- Mak
- Lilija
- Ruzha
- Khmil'
- Berehynja
- Ptakhy
- Solovey i zozulja
- Pavy
- Sokoly, holuby, pivni
- Lastivky
- Znaky Vody i Sontsja
- Zirky
2. Vynyknennja ta poshyrennja tekhniky "khrestyk" v ukrajins'kiy vyshyvtsi
- Pojava khrestyka jak danyna modi
- Rozmajittja kol'oriv – zvidky?
- Jak khrestyk nasliduvav starishi ukrajins'ki tekhniky vyshyvky
- Suchasni tendentsiji rozvytku vyshyvky khrestykom
3. Skhemy ta zrazky ukrajins'koji narodnoji vyshyvky v tekhnitsi "khrestyk"
- Chernihivska, Luhanska, Poltavska, Kyjivska, Sumska, Dniprovska, Lvivska, Rivnenska, Volynska, Zhytomyrska, Chernihivska, Mykolajivska, Chernivetska, Kharkivska, Zaporizka, Ivano-Frankivska, Ternopilska, Donetska, Khersonska, Vinnytska, Zakarpatska, Khmelnytska, Cherkaska oblasti, Podillja, AR Krym
- Pisljamova
- Dodatok: vykriyky