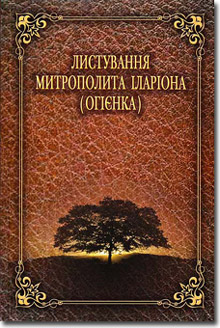 "The book contains part of epistolary heritage of the outstanding Ukrainian church figure and statesman, scholar, Metropolitan Hilarion (Ohienko) (1882-1972). The correspondence highlights the life and work of Metropolitan Hilarion and his many correspondents – prominent Ukrainian Orthodox clergy, scholars, writers, social activists, etc.
Designed for historians, philologists, researchers in the history of the Ukrainian Orthodox Church, as well as all those interested in the native culture and history."
Documentary publication.
In Ukrainian.
Type of the edition: soft cover
Format: 158x236 mm
Number of pages: 566
Publisher: KM-Academy, Kyiv
Contents:
- VSTUP
- Vasyl' Avramenko; Mykola Andrusjak; Kateryna Antonovych; A.Arsenov; Tetjana Arkhypova (Velychkivs'ka);
- Vasyl' Babets'kyy, Pavlo Babjuk, Hryhoriy Bazalyts'kyy; Pavlo Bazylevs'kyy; Baklan; Jevhen Bachyns'kyy; Leonid Bachyns'kyy; Klavdija Bezruchko i Halyna Zmijenko-Senyshyn; D.Bereshchenko; Lev Bykovs'kyy; Mykola Bytyns'kyy; Biblioteka im. Symona Petljury v Paryzhi; Yosyp Bidenko; Leonid Bilets'kyy; Mykhaylo Bilyy; A.Bilopol's'kyy; O.Bilosvit; Rychard Bishof (Bischoff); Hryhoriy i Ksenja Blok; Omeljan Bobko; arkhijepyskop Bohdan (Shpyl'ka); Semen ta Antonina Bolharovy; Ivan Bolsunov; Anton Bol'shak; Il'ko Borshchak; Bratstvo sv.Jurija Peremozhtsja UAPTs u Parahvaji; Mykyta Buza; Osval'd Burhardt (Juriy Klen) i Zinajida Burhardt; Dmytro Buchyns'kyy;
- Fedir Velykokhat'ko; arkhijepyskop RZTs Venedykt; o.Ivan Veselyy; Semen Veremchuk; Serhiy i Kateryna Vyshnivs'ki; Petro Volynjak (Chechet); rodyna Vol'vachiv; Jepyskop V'jacheslav (Lysyts'kyy);
- Juriy ta Lidija Hajevs'ki; Fedir Hay-Hajevs'kyy; Ivan Harashchenko; Vasyl' Harber; Mykola ta Semen Hajuky; Roman Henyk-Berezovs'kyy; Leon Hetts; Moysey Ju.Hitlin; Ivan Honcharenko; Petro Horban'; Ivan Hordijuk; Severyn Hrabjanka; Hrinchenko; Roman Hrodzits'kyy; Juriy Hudziy; Mykhaylo Huljak; Dokija Humenna; Jakiv Hurs'kyy; Arkadiy Husachenko (psevdonim – Filat Zhytnets'kyy); Serhiy Husjev;
- Ja.Danchenko; Roman Dashkevych; Dmytro Denysivs'kyy; Vakula (Wukol) Y.Ditel'; Oleksandr Dijuk, Oleksandr Dobrovol's'kyy, o.Oleksandr Dovhal', Kharyton Dovhaljuk, Viktor Domanyts'kyy, Volodymyr Doroshenko, Dmytro Doroshenko, Oleksandra Drahanova, Ljubov Drazhevs'ka, Vasyl' Dralja, o.Petro Dubyts'kyy, Klavdija Dubinina (Ocheret'ko), o.Anatoliy Dubljans'kyy, Andriy Dubovyy, Vasyl' Dubrovs'kyy, Uladzimir Dudzits'kyy,
- Varfolomiy Jevtymovych, protoijerey Je.
- o.Yosafat Zhan, Andriy Zhars'kyy, Arkadiy Zhyvotko, Borys Zhuk, Anatol' i Natalka Zhukovs'ki, Halyna Zhurba (Nyvyns'ka),
- Mykola Zabello, V.Zadojannyy, Pavlo Zaytsev, Petro Zvarych, K.Zvikhans'kyy
- V.Y.Kayje (V.J.Kaye), Anatol' Kalynovs'kyy (psevdonim – Anatol' Halan), o.Mykhaylo Karachkivs'kyy, Borys Karpins'kyy, Ihor Kachurovs'kyy, Petro Kashyns'kyy, Mykyta Kekalo, o.Tykhon Kyrychuk, Illja Kyrijak, Kytay, o.Kornyliy Kirstjuk, Kostjantyn Klepachivs'kyy, A.Kmeta, profesor Panteleymon Kovaliv, Borys Kozyrenko-Kozyr, Natalja Kozlovs'ka, Serhiy Kokot (psevdonim – Ledjans'kyy), Petro Kolisnyk, Komisija dopomohy ukrajins'komu studentstvu, Komitet po likvidatsiji kolotnechi, Jevhen Kononenko, Pavlo Konopljanko, I.Korovyts'kyy, Natalena Koroleva, Juriy Kosach, Tamara Kosach-Syrotenko, Yosyp Kosiv, Nykodym Kostjukov, Pavlo Kotovych, Mykyta Kotul's'kyy, Andriy Kotsevalov, Juriy Koshel'njuk, Ervin Koshmider, Sydir Kravets', I.Kravs, Serafym Kryshtynovych, Jevhen Krutiy, Volodymyr Kubiyovych, Zenon Kuzelja, o.Fylymon Kul'chyns'kyy, Juriy Kul'chyts'kyy, Petro Kurinnyy, Kateryna Kuskova-Prokopovych, Mykola Kushnirenko,
- M.Lavrenko, Petro Levandovs'kyy, ijeromonakh Leonid (Heza), Kalyna Lysjuk, Mykola Lykholay (psevdonim – O.Lay), knjaz' Oleksandr Liven, Andriy Livyts'kyy, Mykola Livyts'kyy, o.Kost' Linevych, o.Fedir Lutsiv,
- Andriy Makarenko, Fedir Makohon, Illja Maletych, Mykola Maljuzhyns'kyy, Volodymyr Maljukiv (psevdonim – V.Mal'), Mykola Maljushyns'kyy, Petro Maslov, M.Makhnivs'kyy, Pavlo Matsenko, Lev Mydlovs'kyy, Mykhajil, arkhijepyskop Toronto i Skhidnoji Kanady, Oleksandr Mijakivskyy, Volodymyr Mijakovs'kyy, Leonid Mosendz, Leonid Mostovyy, L.Mostovych, Volodymyr Moshyns'kyy, Ivan Murashko, M.Mukha,
- Osyfiy Nazarevych, Hanna Nakonechna, Oleksandr Narizhnyy, Symon Narizhnyy, Nevidomi, Nevidomyy Ju., Afanasiy Nesterenko, Dmytro Nesterenko, Marija Nesterenko, Dmytro Nytchenko (Chub), Vasyl' Novosad, Ivan Nosyk,
- Yosyp i Vipra Oberemky, Mykhaylo Obolens'kyy, Petro Odarchenko, Mykola Ozaruk, Lev Okinshevych, Illja Oksakivs'kyy, Borys Oleksandriv-Hrybins'kyy, Tymish Oleksjuk, T.Olesevych, Dmytro Oliynyk, Ol'ha Oliynyk-Ksjenzhopol's'ka, Juriy Ordanovs'kyy, Todos' Os'machka,
- Mstyslav Pavlenko, M.V.Pavlenko-Lutsiv, Mykola Paliy, Petro i Tamara Panchenky, Serhiy Paramonov, Parafija v Uru-Sapukay (Parahvay), Sofija Parfanova, Sofija Parfanova i Juriy Perkhorovych, Jevhen Pasternak, Vsevolod Pervak, M.Petkevych, Vsevolod Petriv, Natalja Polons'ka-Vasylenko, S.Polujan, Borys Poray-Koshyts', Fedir i Vasylyna Poshyvayly, Viktor Prykhod'ko, o.Dmytro Profeta,
- Anna Radnins'ka, o.Antoniy Radchuk, Roze, Antin Romanenko i Anna Romanjuk, Mykhaylo Rosljak, Mykola Rubakin, Ivan Rudevs'kyy, Ivan Rudychiv, Milena Rudnyts'ka, Juriy Rusov, Oleksandr Rutkovs'kyy,
- Natalja i Volodymyr Savchenky, M.Sadylenko, Mykhaylo Sadovs'kyy, Illja Sapiha, Sydir Saranchuk, Vasyl' Svystun, Ivan Svituna i Tamara Omeljusyk, Panteleymon Semchenko, Pavlo Semchyns'kyy, V'jacheslav Senjutovych-Berezhnyy, Semen Sydorenko, Mikalay Syl'vanovych, jepyskop Syl'vestr (Hajevs'kyy), Oleksa Sim'jantsev, Volodymyr Sichyns'kyy, Marija Skavrons'ka, Jar Slavutych, Anatoliy Smohorzhevs'kyy, o.Viktor Solovey, Volodymyr Solovey, Petro Solukha, Ivan Sorokin, Stepan Sorochyns'kyy, Mykola Staryts'kyy, S.Steblyna, Jezhi Stempkovs'kyy (Jerzy Stempkowski), Oleksandr Stetsenko, o.Mykola Sudoplatov, Vasyl' i Jevhenija Sukhenky,
- tabir u Rimini, tabir Ljandek, Volodymyr Tereshchenko, Pavlo Ternivs'kyy, Juriy Tyshchenko (Siryy), Tovarystvo studentiv-bohosloviv Pravoslavnoji Tserkvy, Vasyl' Tryl'ovs'kyy, Mykola Trots'kyy, Oleksandr Turuchenko,
- Ukrajins'kyy Dopomohovyy Komitet, Serhiy Uljanov,
- Maks Fasmer (Vasmer), Borys Fylypchak, M.Forostenko, Leontiy Forostkivs'kyy, Svjatoslav Froljak,
- Ivan Khudjakov,
- Marija Tsukanova, Bohdan Tsjutsjura,
- Vasyl' Chaplenko, Oleksiy Cherkas'kyy, Stefan Chernjakhivs'kyy, Mykhaylo Chyhryn, Dmytro Chyzhevs'kyy, Mykhaylo Chubatyy,
- dotsent Oleksandr Shavpats, Juriy Shevel'ov (Sherekh), Volodymyr Shyprykevych, Svjatoslav Shramchenko, Ol'ha Shtraukh, Oleh Shtul' (Zhdanovych),. Valentyn Shuhajevs'kyy, o.Symon Shumakov,
- Ivan Shchelisnyy,
- Yosyf Jakymov-Metan, Dmytro Janovs'kyy
DODATKY
Spysok skorochen'
Spysok zastarilykh, malovzhyvanykh ta inozemnykh sliv, dialektyzmiv
Komentar