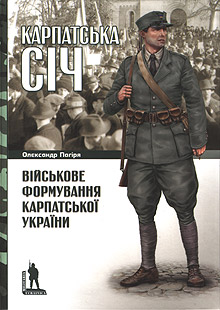 "The book is devoted to one of hardly explored pages of the history of Ukraine on the eve of the Second World War – the military formation of the Carpathian Ukraine, Carpathian Sich. On the basis of a wide range of till recently unknown archive documents and materials, participation of Carpathian Sich warriors in defense of the independent Carpathian Ukraine is tracked, preconditions and key stages of military and organizational development of these armed formations are reproduced, their structure is analyzed, descriptions of drilling and images of rewards are offered.
The publication is intended for all those interested in the history of Ukraine in the 20th century."
Popular research publication.
In Ukrainian.
Type of the edition: paperback
Format: 184õ245 mm
Number of pages: 152, illustrations
Publisher: Tempora, Kyiv
Contents:
1. Peredmova
2. Peredumovy vynyknennja ta stvorennja Karpats'koji Sichi
3. Formuvannja Orhanizatsiji Narodnoji Oborony "Karpats'ka Sich"
4. Boji z ches'kymy viys'kamy v Khusti
5. Uchast' v oboroni Karpats'koji Ukrajiny
6. Pisljamova
7. Spysok rekomendovanoji literatury