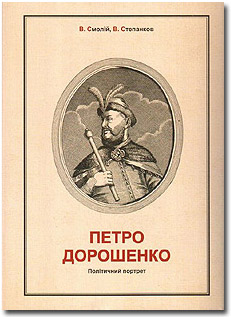 "The work, involving an extensive range of sources, reproduces the hystorical portrait of one of the most charismatic political leaders of the Cossack Ukraine in the middle and second half of the 17
th
century. His life and activity are covered against the broad background of international relations in the Central and Eastern Europe, given the aggregate of internal factors and the complex geopolitical realities, in which the Ukrainian state found itself after the death of Bohdan Khmelnytsky.
Intended for professional historians, lecturers and students, a wide audience of readers."
Research publication.
In Ukrainian.
Type of the edition: hard cover, dust cover
Format: 168x238 mm
Number of pages: 632
Publisher: Tempora, Kyiv
Contents:
- Vid avtoriv
Rozdil 1. Postat' Petra Doroshenka v istoriohrafiji ta dzherelakh
Rozdil 2. Shljakh do het'mans'koji bulavy
Rozdil 3. Utverdzhennja vlady Petra Doroshenka u Pravoberezhzhi. Zakhidnyy pokhid ta yoho naslidky
Rozdil 4. Vozz'jednannja kozats'koji Ukrajiny. U vyri hromadjans'koji viyny
Rozdil 5. Borot'ba za zmitsnennja politychnoji samostiynosti Pravoberezhnoji Het'manshchyny
Rozdil 6. Ukrajins'ko-pol's'ke protystojannja 1671 roku ta yoho naslidky
Rozdil 7. U sojuzi z Portoju proty Rechi Pospolytoji. Buchats'ke fiasko
Rozdil 8. Ukrajins'ka holhofa het'mana
Rozdil 9. Kinets' politychnoji kar'jery
- Imennyy pokazhchyk