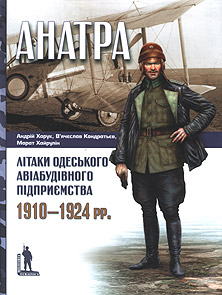 "The book is focused on one of the first aviation industry enterprises in the territory of Ukraine - Odessa firm "Anatra". Based on archive materials, the authors cover the history of development of the firm's production programs, analyze specific features of construction of the airplanes produced by the enterprise. Special attention is paid to the history of military application of "Anatra" airplanes in battlefields of the First World War and in the conflicts that unfolded in 1918- 1920 in the territory of the former Russian Empire.
The publication is intended for all those interested in the history of Ukraine and the air force history."
Popular Science.
In Ukrainian.
Type of the edition: paperback
Format: 184x245 mm
Number of pages: 80, illustrated edition
Publisher: Tempora, Kyiv
Contents:
Istorija rozvytku konstruktsiy "Anatra"
- Pershi kroky
- Vyrobnycha baza
- Frantsuz'kyy spadok
- Vyroby Dekana
- Doslidni konstruktsiji
- Simferopol's'ke viddilennja
- V ohni i buri revoljutsiji
- Vlada bil'she ne zminjujet'sja...
Boyove zastosuvannja litakiv "Anatra"
- Na frontakh Pershoji svitovoji
- Spadkojemtsi imperiji
- Z chervonymy zirkamy
Vykorystana literatura ta dzherela